WinZO is an award-winning and one of the most popular gaming platforms, offering real money based games for Rummy, free Fire, Poker, Fruit Fighter, Pool, Carrom, and several Fantasy games, and many more. The available games on WinZO are fascinating and are known as real money based tournaments.
Altogether, WinZO contains more than 70 games of several genres like Casual games, card games, Battle Royale titles, Action-based games, etc. The app is also available for the public in 10 different languages, including Hindi and English.
Several daily contests are scheduled in the app, and it has a leader board that the users can refer to whenever required. Previously known as WinZO Gold or WinZO Games, WinZO also allows the players to get some real money based rewards while referring their friends.
WinZO Poker is a variation of the platform that has exciting and challenging card games requiring the best strategies and mental skills for earning money. The players can also use several poker tactics for deciding the amount to place on any match. This variation itself has three different formats, Sit&Go, Omaha, and Holdem.
There is one more variation of WinZO, which is WinZO Fantasy Cricket. It is an online fantasy cricket platform where the users can create a dream team of around 11 players altogether from both the teams of any ongoing match.
Players of all the games of WinZO receive amazing cash rewards on winning the titles in any of the tournaments.
WinZO Pros:
An older application thus a trustworthy one
Contains several entertaining and engaging games.
It has a facility for users to get real money rewards in gaming tournaments.
Has more straightforward and seamless gameplay.
WinZO Cons:
Reviews of the applications are not good.
It is available only for Android users.
Withdrawal might take some time in some instances.
Information Summary
Website: https://www.winzogames.com/
Founded: October 2016
Mobile apps: yes
Ratings: 4.6 out of 5.
Banking options:
Paytm Wallet
UPI
Amazon Pay
Bank Transfer
Languages:
10 Regional languages, including English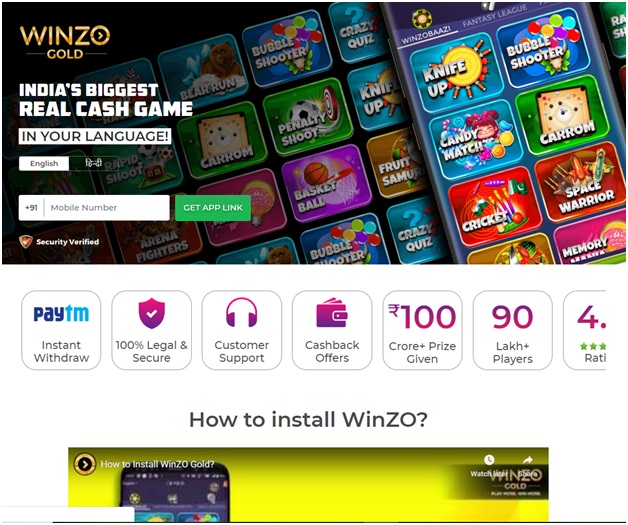 Restricted countries:
Sikkim
Assam
Gujarat
Telangana
Nagaland
Orissa
Currencies:
Indian Rupees (INR)
Contact info:
Email: support@winzogames.com
Telephone: None
Social: Facebook, Twitter, Instagram, and YouTube
Is WinZO safe and trust-worthy?
Yes, WinZO is exceptionally safe and secure. Moreover, its variations WinZO Poker and WinZO Fantasy Sports are also legal and safe, and the entire application also follows the said rules and regulations.
Furthermore, Fantasy Sports applications are already legalized nationwide as it is considered a skill-based game and not a luck-based. Fantasy games are opposite to betting and gambling games, which depend on chance and luck.
WinZO Fantasy Cricket is a safer game and involves gaming to test the users' knowledge, experience, and analysis conditions.
How to earn with WinZO:
The users of WinZO get several opportunities to win real money and enjoy the gameplay mechanics of different genres. As a user registers and joins the platform, he/she receives a welcome bonus instantly, worth 50 INR. There are three more ways to earn more with WinZO, which are as follows:
PLAYING GAMES –
Playing money and enjoying the time is one of the best and most entertaining ways to earn a handsome amount with the platform meanwhile. The user is only required to learn the entire gameplay mechanics and formats. Additionally, as a user adds some money to WinZO wallet for playing the games, he/she also receives some cashback rewards many a time. Furthermore, for all the matches, the best players with the highest scores are the winners, and they also receive a distribution from the prize money
2. LENDING MONEY –
There is an exclusive page available on the WinZO application named Lending money. The page shows some public money lending requests. Many offers are available on that page, like x for y, meaning the player will return x amount for y rupees borrowed. This ensures that people with lower balance can play well, and meanwhile, some with higher ratio can earn by lending the former ones some money. This app feature is also safe as the borrower cannot withdraw cash from the wallet without repaying the amount. Moreover, the borrowed amount automatically deducts from their account and transfers to the lender's account as their wallet reaches the required limit.
3. INVITING FRIENDS –
Inviting friends through referrals and then earning is another way of making money on WinZO. As any of your friends installs the app using your referral link or code, you will get a referral bonus. You will also get some amount when the referred friend adds more money to his/her wallet. Furthermore, as your friend completes playing ten games, you will again receive some cash reward.
WinZO App
Currently, WinZO is available only for nationwide Android users. The Android application of the platform has more than 70 games and ten languages to support the users' best interests. The Company also claims that soon they will add the iOS version of the game too for catering to the needs of the nationwide iOS users.
Customer Support
Email for customer support at support@winzogames.com
Social media handles to contact the support service
WinZO provides a 24*7 support for the customers through the official email mentioned on their platform and website. The users can use it to resolve any disputes and discrepancies arising due to any of the application features. Furthermore, for some generic problems, the users can also go through the FAQ section of the app and platform as that might have the entire solution to their issue in advance.
Playing on the WinZO app:
Playing several games and enjoying the time while getting real money prizes is extremely easy and seamless. For a different type of games, other gaming mechanics are followed by the platform. Since WinZO has more than 70 games from different genres, it ensures having everything matching different people's interests.
Playing the games of any type and category on WinZO require the general gameplay mechanics of that type of other games available on other different online platforms. Moving ahead with the games, if the players go for the poker game, the rules are incredibly similar to the generic gameplay tactics of poker games.
Additionally, while considering the fantasy cricket on WinZO, the players must first choose 11 players from the two playing teams. Then the players' scores in actual matches add up to count the points and scores of the fantasy team maker.